Origins of name
FAMILY NAMES
It is only from the 13th century onwards (12th century for towns like Arras) that baptismal names (often altered), trade related names, or nicknames tend to become hereditary. This is how our family names took shape. They stabilized, at least phonetically, around the 15th century and

remained stable little by little due to the legal obligation to keep civil status registers (this task was performed by catholic priests from the 17th century to the revolution and by protestant pastors from 1598 to 1685; as for Israelites living in France, the obligation to take a family name dates back to 20 January 1808, whereas in the same country, the spelling will be fixed in the family record book in 1887 only.
ORIGIN*
The word's (origin or filiation (root, line, evolution)) etymology should not be confused with the reason why it was attributed to one of our ancestors at a given time.

It is the etymology that we are detailing hereunder
Canevet, see Canivet.
Canévet from the old Breton personal name Cadnemet, Kad-nemet (Quimperlé cartulary, 1070) or by analogy with the Névet forest, (Locronan, 29 near Quimper). Which is itself derived from old Breton, either from CAD (battle), or from COAD (name of a place) and from the Gallic NEMET – NEMED (sacred temple, sanctuary), evolving into NEVET – NIVET to end up as CANEVET, CANIVET, CANEVED, but also CANIVEZ, CANNEVET, … sacred place or sacred battle.
Canipet, -et, -ez, see Canivet.
Canivenc, Cannivenc, Cannivenq; -iven,variant Ganiveng, -enq, differentiated form Carivenc, Cariven (Languedoc). This name indicated a knife manufacturer and seller (see next name).
Canivet (Normandy, Picardy), variant Canivez (North), Canevet: Canivel, little knife, from the ancient French chenivet, quenivet < Scandinavian knifr, ancient French Knif, knife; variant South or Picardy Canipel, Canipeau, Canipet, -pé, -pez, nickname for knife manufacturers: lance-shaped blades mounted in a handle made of wood, horn or ivory. Cit. kenivet (1225), canivet (1380), canyvet (1405), ganivet (1418). Trade; ganivetier or ganivier, cutler. By extension, in the Provence (langue d'oc) name given to 1651 followers of the King during the fronde, who had been trained to handle a little knife with great skill.variant: ganif, canif, gannif, guénif, garnifle, canifre, kenifre, genifyu, ganifle, ganiflou, gani, ganit, kani, canife, goni, gagne, ganyi, knif, ganive, cannive, ganivo, gannibo (long knife used to slice the soup), canivet, quenivet, kenivet, cnivet, ganivet, guanifet, guaniset, ganiflet, ganive, gonibét (old knife, Grande Combe), ganibé, ganivet (large knife, Béarn), ganivet (long and sharp bladed knife, Aran), ganiveta, guenivete, ganivete (bread knife,1410, butcher's cutlass, Ariège), ganibéto, ganibéta, guignauéto, ginawéta, caniveton, ganivetier, ganibetié, canivétou(meticulous, who takes care of small things), ganiveter (cut with a penknife,1583), caniveçon, canivel, ganiveau (person who is unimportant, without merit,1480-1523), ganivelle (wood split to build fences, palisades, stakes), guenivelle (poor-quality goods), ganivelle, (object without value).
Cannevel (Normandy), variant Canewel, Topographic name, derivated from canève < Latin cannabis, hemp, with suffix –ellus, indicates a "chenevière" (hemp field/culture) like the derived Cannevière (Picardy) < Latin cannabaria.
Ganivet, matronymic Ganivette, Ganiveaux, Guenyveau, derivatives formed on ganive, penknife. This expression comes from the ancient French Knif, the cutler's nickname. Southern form Ganiveng, see above CANIVET, CANlVENG. Derived from it is ganivetier, manufacturer of "canivets". Ganivete still exists as a common name in Catalan (*): knives with a very particular shape.  See the site www.paisos-catalans.com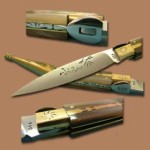 .
Quenivet, spelling variant of Canivet.
Quennevet, spelling variant of  Chennevet, diminutive from Chennevier.

For nicknames and names, we will have to look out for sharp and lively natures (little knife) or for a reference to a specific location (Cad-Nevet in Brittany) or to a trade (who handles the knife), or related to the color white (Latin: canna)… The rest is just a question of imagination, legends and poetry…

COMMON NAME
Canivet : or canide – large parrot, blue or red Ara from Southern America
Saint-Canivet (le) or saint-Ganivet : knife venerated in the church "Saint-jean en Grève" to Paris. Calvin in his "traité des reliques" (pp.217-218) : « .. ils ont ajouté le Saint canivet dont l'hostie de Paris fut piquée par un Juif, lequel les pauvres fols Parisiens ont en plus grand' révérence que l'hostie même.."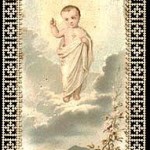 The Canivet is also an image, usually pious, cut from paper with a small sharp knife.
*BIBLIOGRAPHY
LES NOMS DE FAMILLE ET LEURS SECRETS. Jean-Louis BEAUCARNOT.
TRESORS DES NOMS DE FAMILLES. Jacques Cellard.
DICTIONNAIRE HISTORIQUE DE L'ANCIEN LANGAGE FRANCOIS. LA CURNE DE SAINTE PALAYE
LES NOMS DE FAMILLE DE FRANCE. Albert DAUZAT, Paris, Guéngaud, 1977
GLOSSAIRE FRANCAIS DU MOYEN AGE. Par M. le M. Léon de Laborde.
DICTIONNAIRE GENERAL DE LA LANGUE FRANCAISE du commencement du XVIIè siècle jusqu'à nos jours. Adolphe HARZFELD et Arsène DARMESTETER.
DICTIONNAIRE ETYMOLOGIQUE DES NOMS DE FAMILLE, Marie-Thérèse MORLET, éd. Perrin, 1997.
DICTIONNAIRE ETYMOLOGIQUE DES NOMS DE COMMUNES DE NORMANDIE. René Lepelley
DICTIONNAIRE DES NOMS DE FAMILLE BRETONS. Albert DESHAYES.
LES ORIGINES DE LA BRETAGNE. Léon FLEURIOT.
STATISTIQUE DE L'ARRONDISSEMENT DE FALAISE. F. GALERON.
VAUDOIS, CASCAVEOUS et CANIVETS.
LE MAGASIN PITTORESQUE. Fondé et publié par M.A. LACHEVARDIERE. Vocabulaire des mots curieux et pittoresques de l'histoire de France.
COUSINADES : DU NORD AU SUD, La Grande Famille CANIVET. Marcel DOUYROU.
DICTIONNAIRE DE LA LANGUE FRANCAISE. Paul-Emile Littré.
ENCYCLOPEDIE DES OISEAUX D'AMERIQUE.
TOUS LES CANIVET NE SONT PAS … DES COUTELIERS. Victor R.BELOT.
LE PETIT FACTEUR de RUSTICA HEBDO.
FRANZOSISCHES ETYMOMOGISCHES WORTERBUCH. Walther v.Wartburg.
NOMS DE FAMILLE BRETONS D'ORIGINE TOPONYMIQUE, Francis Courvil, éd. Soc. Archéologique du Finistère, 1970.